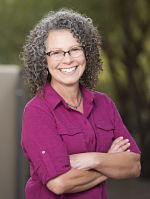 by Miriam Zacharias, President, NANP Board of Directors
We all come into this profession for different reasons.
It may be very personal, seeking specific solutions for you or for a loved one after searching for (and not finding) them in the conventional medicine model. For others, it's about broadly sharing the message of a bio-individual approach to nutrition for lifelong wellness.
Regardless of your reason, if you are a holistic nutrition professional, these things I know to be true:
You are a change-maker. You want to reconnect people to the use of healing foods for lasting wellness. You are passionate about this mission. Your desire to succeed as a holistic nutrition professional is profound!
NANP exists to help you accomplish all that you set out to be and to do. And as I reflect on these things, I have some questions.

Among them are:
1. How are you finding your way along your path so far?
2. What tools do you need to be successful?
3. Where do you look for the best, brightest and boldest collection of holistic nutrition professionals to support you along the way? People who – like you – work tirelessly towards the common goal of promoting and improving our profession?
The NANP is the leading professional organization dedicated exclusively to holistic nutrition experts that pledges to help you find the answers.
We champion your cause by providing resources, information and opportunities as you make your journey throughout your career. Though spread throughout the country, our members bond with one another in a spirit of solidarity, advocating for the entire profession while sharing their challenges, tears and triumphs.
The list of reasons to belong to our community are many, but we wanted to put it out there once again, and particularly highlight what we feel are the TOP reasons to join if you're not a member, and if you are, to remind you why you're here.
TOP 4 REASONS TO BE A MEMBER OF NANP:
1. Credibility
We are all working to strengthen this profession – as well as to help improve the overall validity of an education in holistic nutrition. Becoming Board Certified in Holistic Nutrition® (or BCHN™️) benefits and advances OUR INDUSTRY efforts in unison. As our field grows larger, it is becoming increasingly important that we work together to advance the credibility of a holistic nutrition credential. As you know, there are some in health care who are not quite so keen to see us succeed. Board certification demonstrates that you have achieved the pinnacle of professional recognition and validates your knowledge, skill, and expertise in the holistic nutrition industry.  
For your clients, insurance companies, the health care community, and other complementary practitioners, board certification proves that you are aware of and run your business within your legal scope of service and have committed to the highest standards of professional conduct. Check out our detailed video presentation about the board exam here.
2. Community
Networking with professionals outside the school where you received your nutrition education can give you a broader perspective on the market, your client cases, and offers a diverse perspective on holistic nutrition protocols that you might not learn otherwise.
Sharing in the experiences of others may even leave you feeling energized and refreshed with the feeling you are not alone in the mission. The NANP conference (HEALCon2020) is attended by the brightest minds in our field and provides a hotbed of ideas and collaborative efforts. This is an incredible opportunity for you to meet and network with the largest gathering of your peers from a multitude of schools during the year. As a side note, our conference menu represents the food we strive for our clients to serve in their own homes and meets the lofty standards we have for our own food ethics and nutrient quality. Our conference menu is often farm-to-table, typically sourcing locally available produce and proteins, is always organic and 110% delicious. We walk the talk (and keep our hotel chefs hopping!).
3. Growth
The field of nutrition is always advancing.
NANP members can keep up with the newest developments and scientific breakthroughs through Scoop webinars, approved CEC courses and other education opportunities that frequently come up throughout the year. Additionally, the NANP has entered into partnerships with providers of many of the advanced education courses you will need throughout your entire career.
Are you looking for work? Our Career Center is a great place to find the latest jobs in our field. NANP members benefit from a 3-day lead time on all new job postings – this is an incredible advantage for finding a job in our highly competitive field.
4. Advocacy
Many NANP members who lead busy professional lives depend on us to brief them (and represent them) on important industry trends, new legislative rulings and advances in technology. Our Legislative Affairs Division headed up by Laura Waldo, NTP, focuses its efforts exclusively on the rights and needs of the holistic nutrition professional. Indeed, we have your back. Be sure to sign up for our Legislative Affairs Member Circle through your member page on our website. Laura has more information about this exciting new members-only group (see below).
Please visit our website to find out more about all the above. And most important, fast track your career and join us in our mission. We have important work to do, and every person counts. Become a professional membership of the NANP, and get Board Certified in Holistic Nutrition® today.
Reach out, get to know us. We are ready for you.
Miriam
PS – Most importantly, at the NANP you find out in countless ways that you are not alone.