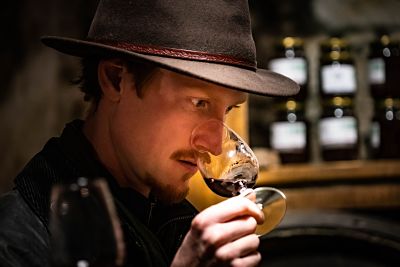 by Luen Proft, Soil Advocate & Natural Wine Connoisseur

Whether you are watching the last pile of snow melt from your yard or planting your spring garden, there is no doubt that the energy is changing in the natural world around us.
Many transformations take place as we shift with the seasons. This time of year is one of great upward energy for the mind and spirit. Vibrant new foods become available, and we once again have the opportunity to enjoy spring produce, consuming local foods from farmers and fields close to our tables! As part of the change, hearty stews and winter vegetables paired with warming red wines transition to fresh foods like fruits and salads, which pair with lively whites and lighter reds.
Thanks to the growing hours of daylight, we can spend more time outside taking in the beauty of the natural world. This time can bring about wonderful joys and heightened energy as we take in more sunshine and socialize with friends outdoors. However, we may also sense stress levels rising as the world around us speeds up again.
The foods and wine we consume can help balance these polarities. And with that in mind, I wanted to share some of the wines that I will be opening this spring season to help me find balance for my mind and spirit.
As you may very well know, here at Dry Farm Wines, we only offer wines with 12.5% ABV alcohol or less. And for this time of year, I find that low ABV wines are especially helpful to enjoy on longer days. There are often more dinnertime hours available for refills, and with additional social time, the extra glass is a welcomed celebration. It is much easier for your mind and body to say yes to that extra glass of wine if the ABV is low and the wine is made with the utmost care, quality, and love.
I also find that spring is a great time to explore lighter red wines. Look for something that still has a bit of that red fruit component but with more elegant tannins and a softer color – a better match for the season! Some of my favorite light red grapes include Schiava, Valpolicella, Grolleau, and Gamay.
Additionally, for the health-conscious, it's important to know that wines lighter in color tend to contain less histamine, which can often cause congestion and stuffiness. For this reason, lighter red wines are a better choice if you're someone who suffers from spring allergies.
I encourage you to celebrate the season by spending more time outdoors welcoming in the fresh, vibrant season of spring!
You'll certainly find me barefoot in my garden tending to seedlings with a glass in hand. Cheers to a time of transition. May you enjoy it as much as I do!
To high health and spring abundance!
About Luen Proft
From childhood, Luen fostered his love for wine and food while growing up on an organic farm in Vermont. After moving to California to pursue his dreams in the wine world, he met Todd, the founder of Dry Farm Wines. Luen & Todd quickly realized their similar passion for cooking, wine, and a well contemplated life. Luen was the first official Dry Farm Wines office employee and the originator of the wine program. Since, Luen has led sourcing these beautiful wines from farmers all over the world and has spent much of the last 5 years meeting with winemakers overseas.